this is the pathetic a01 bunch that turned up for the
JTS (juniors treat seniors) bbq.
jaslyn thought of this pose.
we looked like those prostitutes caught after a raid,
but we are so decently clothed.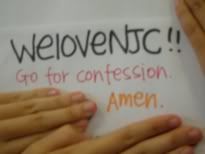 our class board.
me and cheryl drew this! ((:
smth really classic, like when i was in pri 4?
nostalgic.
i wrote smth, but i deleted it.
it's just ain't right of me.
sis brought back 2 thai girls home for dinner ((:
they looked so cute, so pretty!
haha and they said i looked 15! ((:
and yeah both of them were only 14 and 15.
okie. that was cheapthrill.
but i am in need of that. x(
I DEMAND FOR OUTINGS AFTER COMMON TESTS!
ROJAK, NIENIES, GUARDIAN FORCE, TRIO,
counting down to after cts.
4 more days ((:
i am taking things too lighty i realised.
every thing.